I go through phases with cooking dinner. Sometimes I stick to the tried and true favourites and other times I am super keen to find and try new recipes. Any increase in motivation tends to coincide with the release of the new taste.com.au magazine. I've cooked three new dinner recipes in three days so I guess you won't be surprised that I down loaded the new edition this week.
I have no affiliation with the magazine but I really do love it. It has a great mix of recipes; easy to challenging, healthy to indulgent, favourites to new interpretations, common to new ingredients. They also include nutritional information for each recipe which I find really useful. Better still, I can access it on my iPad for free via my local library (Eastern Regional Libraries) so winning all around!
I love cooking new things for many reasons. It means I get excited to cook, I look forward to dinner and it is easy to control what you eat when cooking from scratch. For example, when I looked over my meals for the day I realised that unintentionally it was a sugar free day. Happy days.
Breakfast: My favourite muesli with yoghurt and blueberries
I got around to making my own batch of toasted muesli, or granola. It was based initially on I Quit Sugar's coco-nutty granola but I've changed it up to make it my signature mix.
I've got a post lined up for next week to show you how to pimp your own signature granola and also share my version. I'm loving it at the moment with yoghurt and frozen blueberries
.
Lunch: Omelette with veggies
Inspired by my Enoki mushroom and spinach omelette I made another one with left-over enoki, carrot, tomato and spring onion. I'm enjoying cooking omelettes half way through on the stove top and finishing them in the oven until it is beautifully golden and crisp.
Dinner: Spicy chicken, corn and zucchini tortilla pie
This is one of the new recipes from taste.com.au and it will be made again. The filling is made from chicken mince, corn, zucchini, onion and some spice and layered with wholegrain tortillas. It is topped with a little cheese mixed with Greek yoghurt and served with an avocado, capsicum and tomato salad. I had some chimichurri dressing I had made for lunch on the weekend and it was the perfect finish to the salad.
The other winning recipe this week was their caramelised onion, beef and mushroom pie.
Snacks: Some nutty trail mix and a tub of sugar-free raspberry yoghurt.
Tell me, what is your 'go to' recipe book/site/blog?
Linking up with Jenn @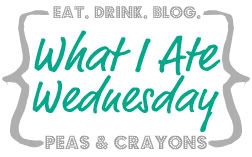 Keep smiling
Dani