This post is an entry into the Nuffnang 'Fresh Recipe' Network Competition, thanks to BRITA. Check out

betterwithbrita.com

for inspiration and exclusive recipes by Gary Mehigan
Water is an essential part of many things. About 70% of our bodies are water, the raspberries used in this recipe are 87% water and nothing quite quenches your thirst like a glass of cold water.
Water is also important for many cooking processes, but I've never really thought of it as an ingredient, per se.
When I did start to think about how to feature water as an ingredient I was initially drawn to making a soup. The stock used in a soup is the most important ingredient in terms of adding depth of flavour to the dish and of course a stock is primarily made up of water. But inspiration for a soup didn't come to me, so I kept thinking.
I made a smoothie, but in the case of a superfruit smoothie the water could be replaced with any number of frozen juices or frozen fruit and I wanted to use water in a way that reflected its unique properties.
I decided the best way to do this was to create a parfait using a nut cream.
When making a nut cream the nuts need to be soaked in filtered water.
It is always recommended that you soak nuts or seeds in filtered water as contaminants and chemicals in tap water can interfere with the soaking process. Soaking is beneficial in two ways as it not only helps soften the nuts, which makes them easier to process into a cream, but it also improves their nutritional profile.
Soaking breaks down the phytic acid which is found in the coating of nuts and helps to activate enzymes. This makes the nuts easier to digest and the minerals easier to absorb. And yet poor Pete Evans copped so much grief for his activated almonds!
I am guilty of not always soaking nuts as it does require good forward planning and I generally want to cook or eat right now! But if you are planning ahead, it is a worthwhile habit to practise.
Use a glass or ceramic bowl to soak your nuts and and then leave them out, covered, overnight at room temperature. Rinse them in the morning and blend them in a food processor with some more filtered water and you'll be rewarded with a smooth nut cream.
When blending the nuts you'll need to keep the processor going for a good 5 minutes to get it smooth and creamy.
My parfait was inspired by the curd used in Styled and Stuff's Passionfruit Slice. I wanted a great combination of colour and texture and decided on a combination of coconut biscuit, tart lemon curd, tangy raspberry sorbet and fluffy macadamia cream. And you end up with a party in your mouth with every bite!
I've also kept it gluten free and used xylitol as my choice of sweetener keeping it sugar-free too!
It is best served immediately but also tastes good if taken straight from the fridge.
Raspberry, lemon curd and macadamia nut cream parfait
Ingredients
Macadamia nut cream

1 cup

macadamia nuts

1L

filtered water



Lemon Curd

1/ 2 cup

lemon juice

1/4 cup

preferred granulated sweetener (e.g. sugar, natvia, xyltiol, stevia)

2 tbsps

gluten free

corn flour

3

egg yolks

1/ 2 cup

boiling water

1 tbsp

butter



Coconut Biscuit crumb

1 cup

dessicated coconut

1/3 cup

oat flour

3 tbsp

granulated sweetener

1/4 cup

almond meal

3 tbsp

macadamia oil

1 tsp

vanilla essence



Raspberry Sorbet

100g

frozen raspberries

1

frozen banana, chopped
Cooking Directions
Place macadamia nuts in a glass or ceramic bowl. Fill with the bowl with enough filtered water to completely cover the nuts and leave to soak overnight.

Drain and rinse nuts. Place nuts in food processor with 2/3 cup of filtered water and process into a cream. This will take a good 5 minutes. Set aside.

Place sweetener, boiling water, lemon juice and corn flour in a saucepan and bring to the boil until it thickens.

Take it off the heat and quickly whisk in the egg yolks. Then add the butter to finish. Set aside

Mix coconut, oat flour, almond meal, sweetener, oil and vanilla together until it looks like wet sand and place in the base of a tin. Bake at 160 degrees for 15 mins or until golden brown. Set aside to cool before breaking up into small pieces.

Place the raspberries and banana in a food processor and blend into a smooth sorbet.

Assemble the parfait by layering the biscuit, lemon curd, macadamia cream and raspberry.

Finish with a layer of the cream and garnish with chopped macadamia and raspberries.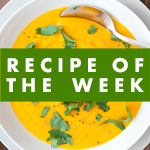 Keep smiling