I found a great recipe for a sugar-free raspberry and coconut slice and it was the highlight of my eating day. It is definitely a keeper as it tastes very similar to a traditional raspberry and coconut slice but without all of the butter and sugar. I was pretty good at keeping my vegetable count up for the rest of the day.
Breakfast: Asparagus, mushroom, spinach, avocado and egg
You can't quite see the egg, but the runny yolk added a natural sauce. I just sauteed the veggies in a little olive oil and added a touch of pink Himalayan salt.
Lunch: Chicken, tomato and corn soup
Gourmet eats here, soup straight from a can! I hadn't tried this one before, but it is nice. It has far less of the 'can' flavour some soups have so I'll partially (very partially) pay the 'cafe' claim. JJ did devour it though, however he is eating anything and everything at the moment!
Dinner: Chicken and Free
keh salad with sun-dried tomato and basil
This made for a perfect post-gym dinner. Actually gym or no gym, it was delicious. I really enjoy the nutty taste of freekeh and chicken, sun-dried tomato and basil is always a winning combination.
I'm posting this recipe on Monday, so check back next week
!
Snack: Sugar-free berry and coconut slice
Natvia have produced a free baking e-book and this recipe is in it. I don't have any Natvia by I do have xylitol and I used that to great effect. It was a big winner with hubby as well as it is sweet and tastes very similar to one of his favourite raspberry and coconut slice. I'm going to play around with this and see if I can put my stamp on it - stay tuned.
I also snacked on a sugar-free muesli bar, some almonds and some dark chocolate. Based on current health advice, I feel like I'd be doing myself a health disservice if I didn't eat some dark chocolate everyday!! Anyone else read about the chocolate diet?
Are you a convert to daily dark chocolate too??
Linking up with Jenn @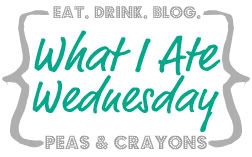 Keep smiling
Dani