I have three 'new to me' meals to share with you today. Breakfast made from millet, lunch made from Brussels sprouts and gnocchi made from two surprising ingredients!
Breakfast: Millet porridge with raspberries and seeds
Naturally Ella recently featured some fellow bloggers who have made recipes from her book 'The Homemade Flour Cookbook' and she included The First Mess' version of Vanilla Bean Millet Porridge with Lavender Strawberries. The photography on both sites is as beautiful as it is inspiring. As such I decided to use the millet I had sitting in the pantry and make a simpler version of the featured porridge.
I mostly followed the directions for the millet porridge, only substituting normal milk for almond milk. I used tap water and selected cinnamon over cardamom. I made the same seed mix. But as strawberries are not in season I mixed some frozen raspberries with homemade apple sauce for my topping. The millet does need sweetening and the apples did the trick here. If you have a sweet tooth, you'll need the maple syrup suggested by Ella.
Lunch: Green goodness soup (with leek, cauliflower, Brussels sprouts and baby spinach)
My new love affair with leeks continue and I've made a soup that has changed my mind about sprouts. This soup was initially inspired by the bag of farm fresh sprouts in my fridge and the Bubble and Squeak soup featured in this weeks 'taste.com.au' lift out. It is a beautiful winter soup. I am on to my second batch and will post my recipe next week.
I have eat the soup with a piece of multi-grain bread topped with avocado to make sure I can make it to dinner.
Dinner: 'Gnocchi' bolognese
When I take the boys to our local library I like to browse the food magazines . This month's edition of delicious features a 'gnocchi' made from cannellini beans and flour. I was instantly intrigued as I read a lot of recipes and food blogs but I don't recall ever coming across gnocchi made like this. Naturally I had to try it for dinner...that night!
I used normal gnocchi for the boys as I wasn't sure how it would turn out especially as I decided to substitute flour for oat flour. I made half the quantity and although it looks average (the delicious version looks far more appetising!) I still enjoyed it. It has quite a similar texture and taste to potato gnocchi.
The sauce however was quite average, we had to add some sauce from a bottle to try to save it and add flavour.
Luckily I had made a healthy apple crumble slice to serve for dessert to salvage the meal! Recipe coming.
Snacks: A piece of raisin toast and a sugar-free museli bar.
Have you made a dish with surprising ingredients?
Linking up with Jenn @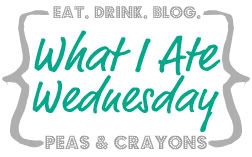 Keep smiling
Dani