I had a great day out yesterday. We went to see 'The Speechmaker' at the Arts Centre, written by the Working Dog team and performed by a well-known cast. I really like Jane Harber who stars in both 'Offspring' and 'The Moody Christmas' series. It also stars Kat Stewart, Erik Thomson and Lachy Hulme, who despite having a smaller part was quite impressive. While the others 'played' a character, he just is the character.
The season sold out really quickly so I was glad we got tickets. It was slick and witty and made some interesting satirical observations about political motivation, particularly in the U.S. It warmed up, with the second and third act better than the first.
We then finished with a quick bite at the pop up 'Rue on Collins'. I ate the pork belly Bo
Ssam
from Kong. It was okay, but I wouldn't get it again. I was swayed by on line recommendations to try it but considering I don't love pork crackling I should have got the
ssam
-style
roti
wrapped with pulled pork and
wombok
cabbage
kimchi
and mayo - I hate, hate, hate food envy!!
The hubbby had a Mr Papadopolous souvlaki from Jimmy Grants which is a mix of lamb, mustard aioli, chips and onion; he was impressed and
said it was really good. They also had a grain salad that sounded great and I just found the
recipe
,
I will be making it soon!
But now over to healthier eats from the week:
Breakfast: Buckwheat and Apple Porridge
This breakfast was inspired by another great recipe from Teresa Cutter, her Winter Warming Porridge with Chia Aromatics . It makes an excellent change up from oats and I really enjoyed it and I'll be making it again. Buckwheat is gluten free and low GI which makes for a great breakfast option.
How to make:
Dry-roast 1/2 cup of buckwheat grouts in a saucepan for a couple of minutes until it starts to smell nutty. Add cinnamon stick, 1 1/2 cups of water, 1 teaspoon of vanilla extract and cook for 10-15 minutes over a low heat. When it is cooked through, add 1/2 cup of milk of your choice and stir through 2 large tablespoons of apple sauce. Sprinkle with some flax seeds and serve.
Lunch: Bacon, feta and pea brown rice
I made this salad for a family lunch get together and set some aside for my lunch the next day. It is adapted from Pinch of Yum's Fresh Quinoa Salad with Honey Vinaigrette. It was popular at the lunch - here's the recipe for you Auntie Noel!
How to make:
Cook 1 cup of brown rice (I ran out of quinoa)
Dice and cook three rashes of bacon. When the bacon is cooked blitz it in a bowl with the stick blender to make it into a crumb.
Use the stick blender to also crumb 1/2 cup of almonds.
Pour boiling water over 1 cup of frozen peas to cook quickly and keep the bright green colour.
I used fresh basil, parsley and a little mint to make up 1/2 cup of herbs. I'd probably leave the mint out next time I make this salad.
The vinaigrette is made from the juice of two lemons, 1/3 cup oil from the feta cheese (or you an use olive oil), a pinch of salt and 2 tablespoons of honey mixed together in a jar.
Mix it all in a bowl and crumble over 1/2 cup of feta cheese to serve.
(I forgot to serve it over spinach leaves, but that makes a nice addition.)
Dinner: Tacos with avocado and spicy sauce
I like to break the shells up and layer with the mince, avocado, tomato, spinach leaves and a sprinkle of cheese. The mince is ramped up with the addition of carrot and lentils and I had some spicy sauce left over from a chicken enchilada casserole earlier in the week. MJ ate almost as much as me over his chanting of "We love Daddy's tacos, we love Daddy's tacos!"
Snack: Banana Smoothie
In the mix: One banana, sugar-free banana drink flavouring, Greek yoghurt, milk, ice and flax seeds. Tastes so good, yet all good for you. It's really a meal in itself and is a filling and delicious treat. It's becoming a bit of a regular.
What is your favourite smoothie?
Linking up with Jenn @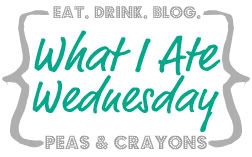 Keep smiling
Dani