We hosted two students from China for the last week as part of an exchange program at my husband's school. We looked after Kevin and Sophara and they were both delightful to host. We really liked that it opened up MJ's ideas about the wider world, he was even inspired to try to use chop sticks!
People had given mixed reports about how picky they might be with their food, but we found both of them were quite happy to give most things a go. Sophora ate everything we served up, including the kangaroo burgers we cooked as part of a BBQ meal. Kevin didn't like spaghetti (he wanted his noodles very soft like rice noodles in broth) and gave the kangaroo a wide berth!
They were surprised that we eat kangaroo and that it is available in most supermarkets. I often wonder why it isn't eaten more frequently in Australia as it is cheap and healthy, although, because it is so lean it does need some care with the cooking.
Our conversations required the use of mime, a small electronic translator and lots and lots of repetition and re-phrasing but we did discover that their basic meals at boarding school included rice, potatoes, tomato and green vegetables. They have to wait to Grade 12 to get their noodle privileges!! They had quite the sweet tooth and enthusiastically took up our offers of dessert each night. MJ was in heaven as we rarely have dessert during the week.
But like all things, the world is getting smaller and so the difference between what they do/eat/experience in China is becoming more and more similar to what we do in Australia. They were familiar with most western take-away outlets and our type of food. Although apparently chocolate is cheap in Australia so they loaded up with trays of chocolate for gifts to take home.
Between sampling the Australian food we provided for them to try (including a BBQ, lamingtons, pavlova and my Anzac biscuits) I did manage some healthy eats.
Breakfast: Roasted pumpkin, spinach and chickpea patties
I had left overs from my staple BBQ pumpkin salad (roasted pumpkin, spinach, chickpeas, feta and walnuts) so I used the stick blender to blitz them and turn them into patties. I served them with more spinach and avocado and it made a great breakfast. I love leftovers and so did JJ.
Lunch: Kangaroo burger with coleslaw
Again left overs. The coleslaw looks indulgent but I make it healthier by only using a little bit of aioli and adding it to Greek yoghurt with some seeded mustard. You get the same taste without using much mayonnaise at all.
I've only eaten kangaroo a few times and although I knew it was a lean meat, I was surprised to see it's nutritional stats - one burger had less than 300kJ.
Dinner: Brown Rice with Marinated Beef
This is a very basic brown rice with veggies served with beef, broccoli, red and green capsicum and mushrooms marinated in soy sauce, garlic, chilli flakes, a little sugar and olive oil. Quick, easy and healthy.
Snacks: Green Smoothie & Trail Mix
My usual green smoothie, but I used silverbeet instead of kale as it is growing well in the garden. I also got brave enough to leave the skin on the kiwi fruit and thankfully you can't taste any difference.
I've been keen to try a new protein powder so I looked up which one is recommended by Sarah Wilson at I Quit Sugar. They recommend Vital Pea Protein so when I saw Chemist Warehouse had it on special so I picked some up. So far it tastes good and the nutritional stats are great, over 80% protein, low in kilojoules and no sugar.
Hope you had a great Wednesday.
Have you hosted international guests with different tastes?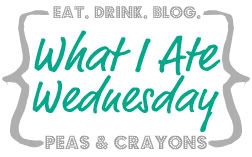 Keep smiling
Dani