Chicken or egg? Recipe or ingredient first? Sometimes I decide what to cook based on a recipe I've found, other times I decide what to cook based on a hankering I have for a particular ingredient.
This meal started with the later. I wandered into the pantry and decided I wanted to use freekah and that I wanted to pair it with chicken. Once I had decided on those ingredients I drew inspiration from One Plus One's beautiful freekeh salad recipe. I changed it up to suit my ingredients and preferred flavours.
I cooked it up prior to a gym session and when I came home I was very happy that I had a healthy and delicious meal ready to go in 5 minutes.
Recipe: Chicken and Freekeh Salad with Sun-dried Tomato and Basil
Serves 2 (plus one pre-schooler)
Freekeh Salad Ingredients:
1 tablespoons olive oil, extra
1 large red (purple/Spanish) onions, finely chopped
1 garlic cloves, finely chopped
1/2 cracked freekeh, soaked in 1½ cups water for 15 minutes
1 cup water
Salt and freshly cracked black pepper
1/2 cup sun-dried tomatoes, roughly chopped
2 roasted capsicums, roughly chopped
½ cup (70g) slivered almonds, toasted
½ cup (70g) pine nuts,toasted
2 big handfuls baby spinach leaves
½ cup each roughly chopped basil and parsley
Lemon dressing:
¼ cup (60ml) lemon juice
2 teaspoons lemon zest
¼ cup (60ml) extra virgin olive oil
Heat extra oil in a large heavy-based saucepan over medium heat. Cook the onion and garlic for 2 minutes, until just fragrant.
Add soaked freekeh and mix well. Add water. Bring to the boil. Turn down heat, cover and simmer over a low heat for 10 minutes. Remove the saucepan from the heat and allow to rest, covered, for 10 minutes. Add the sun-dried tomato, roasted capsicum, almonds, pine nuts, spinach and herbs.
Combine lemon juice, zest and olive oil in a screw-top jar and shake well until combined. Dress salad before serving.
Chicken Ingredients:
2 small chicken breasts, skin removed, chopped into small pieces
1 garlic clove, finely chopped
1 tbsp extra virgin olive oil
1/2 cup basil and parsley, chopped
1/3 cup sun-dried tomatoes, chopped
Saute the garlic in a pan with the olive oil for 2-3 minutes. Add tomato and cook a further 2 minutes. Remove garlic and tomato from pan. Add chicken to the pan and cook until browned and juices run clear. Add garlic and tomato back to pan with fresh herbs, toss for 30 seconds and serve freekeh salad.

What's your favourite grain to cook with?

Linking up with A Mummy Too's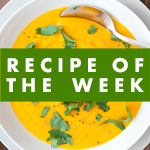 and Fabulous Foodie Friday




Keep smiling



Dani