I missed a couple of WIAW weeks but I'm back with vegetables at every meal. On days when I eat like this I am definitely fuller and I don't get attacked by the munchies nearly as much after dinner. It also feels good to get all those serves of veggies in!
Breakfast: Green smoothie
I'd almost given up on green smoothies. If I made one full of green veggies they tasted average and my old blender couldn't 'smooth' it out enough, it was like trying to drink a bowl of shredded greens. If they tasted good they were inevitably full of fruit which kind of defeats the purpose and means I am hungry 30 minutes after I drink it.
Then I saw Teresa Cutter's latest Green Gooddess Smoothie and I was convinced to give the green smoothie one more go. And I'm glad I did! It is full of green veggies and the only fruit is kiwi fruit which gives it plenty of sweetness while still being a low fructose fruit. It tastes great and kept me full until lunch. It makes two smoothies; I had one for breakfast and kept one to sip throughout the day.
I used kiwi fruit (but I peeled it), 2 big handfuls of spinach, 1/2 lemon, kale leaf, 1/2 cucumber, coconut water and flaxseeds. Highly recommended.
Lunch: Zucchini & Sweet Potato Loaf
Lucy at Bake,Play,Smile made this Donna Hay sweet potato and zucchini loaf and as I had some big zucchini I needed to use up I was inspired to also make it. I took it for lunch when I went to visit my nan with my mum. Nan had already had lunch when we arrived but Mum and I enjoyed it anyway. Again lots of leftovers, happy days!
Dinner: Stuffed Middle Eastern Pumpkin
I had frozen some of the mince mixture when I first made this Middle Eastern Stuffed Pumpkin and so I pulled it out of the freezer and made it again. I added capsicum, mushroom and spinach to the mixture and added another can of lentils. I also added some more brown rice to serve and finished with the greek yoghurt and pomegranates.
Snacks included an apple, yoghurt, some raisin bread and some dark chocolate.
Thanks to Jenn for hosting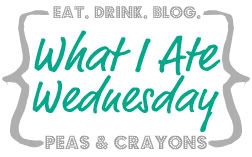 How do you up your vegetable intake?
Keep smiling
Dani