When trying to eat well, I've found the adage 'failing to prepare is preparing to fail' is very true! I've been pretty good the last couple of weeks at doing some prep to make sure that I eat better. I have home-made vegetable stock in the freezer, apple sauce and cauliflower 'rice' in the fridge, soup in the pot and protein balls ready to go.
Here are some of my other healthy eats:
Breakfast: Baked Apple Oats.
After seeing these Baked Apple Pie Oats on Apples Under My Bed, I had to make my own version. I made it up the night before and baked it in the morning while I was having a shower. Perfect for the chilly mornings where our house stays in the valley fog for several hours.
My version:
Slice and cook one granny smith apple in the microwave under the apple is just tender. Spray a baking dish with coconut oil and line the base with the apples. In a bowl add 1 cup oats,
one egg, one tablespoon of apple sauce, 1 teaspoon rice malt syrup, almonds, sultanas, cinnamon and 1 cup of milk, and stir to combine. Pour this mixture over the apples, smoothing it out so it is flat. Bake in the oven until golden and serve with

Greek yoghurt. This made two serves.
Lunch: 'Fridge scrapings' on sour dough toast
Although our staple bread is a wholemeal multi-grain loaf I love sour dough bread and eat it at any opportunity. Here I've toasted it and topped it with randomness from the fridge. Smoked salmon, cream cheese and avocado and a mix of avocado, corn, tomato and white bean salsa. Well, they are really just leftovers added together in one bowl that happened to make a 'salsa.' I made this as a plate to share with MJ, but I ate most of it, okay all of it!
Love this hommus dip (although I usually spell it hummus), except I can eat it in very large quantities straight from the tub with a spoon, okay sometimes with my finger. I promise I won't share my finger licking tub with you if you come over.
Dinner:
Chickpea, vegetable cous cous served with lamb kofta.
A mix of vegetables (pumpkin, zucchini, capsicum, mushroom) and spices cooked in the fry pan with a little chicken stock. Cook cous cous and add to pan with a tin of rinsed chickpeas and top with feta. I served this with lamb koftas. Yum.
Snacks: Greek yoghurt with blueberries. I am loving this - put frozen blueberries in a bowl and microwave for 40 seconds. Add Greek yoghurt and swirl and eat. Some dark chocolate as always and a slice of the blueberry raisin bread I can't get enough of.
What is your favourite food to prep to keep your eats on track?
Thanks to Jenn for hosting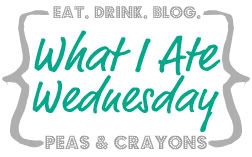 Keep smiling
Dani