In my ongoing quest to balance my love of eating with healthier food choices I've made a few more recipes from the 'I Quit Sugar for Life' book.
Overall I find the recipes a little bit repetitive, not because of the no sugar part but more because of the paleo approach they take. Lots of recipes include pumpkin puree, use lettuce wraps instead of bread, focus on leafy greens, replace sugar with rice malt syrup and use everything coconut.
I do love their premise that it is easier to 'do' than 'restrict' and so we should use the 'crowd out' approach to eating. Eat lots of the good stuff so we don't feel like we are missing out on the other stuff.
I am all for reducing my sugar intake, but I'll never go completely sugar free; everything good in moderation I say. Having said all of that, I still like quite a few of the recipes and I made a new one for breakfast.
Breakfast: Peanut Butter and Jelly Whip
This required a bit of prep, more than I'd usually do for breakfast, but it does at least make enough to cover breakfast for the rest of the week.
You make a coconut cream by whipping the solid part of the coconut cream with some granulated stevia. (You place the tin upside down in the fridge overnight so the cream seperates from the liquid). I used low fat coconut cream so I knew it wouldn't whip up nice and thick like full cream coconut milk does, but it still tasted good. You also make a sugar free jam; I made mine using frozen raspberries, chia seeds and rice malt syrup.
Once you have these elements made you are ready to make the whip. You blend 1/2 oats, 1 tbsp chia seeds, 2 tbsp vanilla protein powder and 1 1/2 cups of milk of your choice and leave overnight. You are then meant to blend 1tbsp of peanut butter with 1/2 cup of the whipped coconut cream but I just drizzled the peanut butter over the top. It is meant to nicely layered but I preferred it all mixed up together. I also preferred it to all be made up in the morning as I liked the oats chewy.
It is supposed to serve two, but I had 2/3 for breakfast and snacked on the rest throughout the day.
Lunch: Beetroot pesto pita pizza
I have also made this pizza with a cauliflower base but the memory card with that photo is sadly damaged.
This is the version I made for lunch with Mum. Pita bread covered with a beetroot pesto made from beetroot, garlic, walnuts, parmesan, lemon juice, olive oil and salt. Topped with mushrooms, spinach, feta and mozzarella. Delicious. Adapted from this recipe.
Dinner: Flat-head tails, sweet potato chips and 'green' brown rice.
This is standard fish and baked sweet potato chips. I made a version of this green mexican rice with corn using brown rice, omitted the coriander, and added yellow capsicum and some mushrooms.
Because I used brown rice, I needed to use more water and allow more time for cooking. Because the cooking time increased, I lost a little of the vibrant green from the spinach but it still tasted good.
Dessert: Home-made trail mix
In the mix, dark chocolate bits, cranberries, cashew, sunflower seeds, pepitas, buckwheat grouts.
Snacks:
Celery with Almond, Chia and Sesame butter
Two no-added-sugar choc-chip cookies (recipe coming on Monday)
Tell me, what do you put in your ultimate trail mix?
Linking up with Jenn @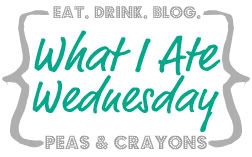 Hope you had a great week.
Keep smiling
Dani
This post contains affiliate links.