This is the way I lighten up the classic cottage pie, or Shepherd's pie as we tend to call it. I lighten the mash by using roasted sweet potato, cauliflower and garlic and add extra veggies and lentils to the meat filling.
I used carrot, celery and mushrooms to add vegetable bulk. You could use peas or corn instead.
The stick blender makes light work of the sweet potato and cauliflower mash. I left the skin on my sweet potato and also cooked them a little fast so had a few darker spots on them. If you remove the skin, you will have a brighter orange mash (but you'll also be missing out on some important nutrients!). I momentarily got the piping bag out before I came back to my senses and used a fork instead to create the lines to help develop some crunch on the topping.
Blog life versus real life
My small ramekin was made so I could take a photo in daylight, and this was the pie we actually ate. My husband isn't the biggest fan of cauliflower, so while I think the sweet potato is a stronger flavour than the cauliflower, I made his 3/4 of the pie with a traditional potato mash topping.
Recipe: Cottage Pie with Sweet Potato and Cauliflower Crust
1/2 head of cauliflower, chopped into florets
1 large sweet potato, roughly chopped
1 tbsp olive oil
1 clove of garlic
1-2 tbsp of your preferred milk (I used skim milk)
1 onion finely chopped
2 cloves garlic, finely chopped
500g lean beef mince
2 medium carrots
2 celery stalks
4 large mushrooms, finely chopped
400g tin lentils, rinsed
4 cups beef stock
1 tomato, chopped
6 fresh sage leaves, finely chopped
Sprinkle of panko bread crumbs (optional)
Place the cauliflower, sweet potato and garlic on a baking tray and toss with olive oil. Bake in a moderate oven until the sweet potato is tender and the cauliflower is golden, about 25 minutes.
While the vegetables are baking, saute the onion and garlic for 2 minutes before adding the carrot and celery and cook for a further 4-5 minutes. Add the mince, lentils and mushrooms and break up any lumps. When mince is just browned add the stock and tomato and sage leaves. Bring to the boil and then reduce to a simmer until most of the liquid has been absorbed.
Place the cooked vegetables in a bowl and add a splash of milk before using a stick blender to mash the potato and cauliflower. Season with salt and pepper.
Grease 4 small ramekins or one larger baking tray and fill with meat mixture. Top with the sweet potato and cauliflower mash, sprinkle over the panko bread crumbs, and bake in a 180 degree oven for 25 minutes or until it is golden and crunchy.
Serve with green steamed vegetables.
So tell me, do you mix up the vegetables you use in your cottage pie mash?
I'm sending this to Emily at A Mummy Too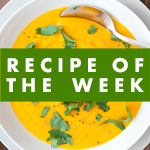 Keep smiling 





Dani