WIAW means different things to different people. I was looking at my past posts and thought I should explain how I use WIAW to help me improve my eating.
I pick one day a week and plan my meals for this post. I pick healthy, whole foods with very limited sugar and I ensure that I have all of the ingredients and time to prepare each meal. This means that for at least 1 day per week I eat really well and it stops me from getting in too many food ruts, i.e. eating the same thing over and over.
So how does a WIAW day of food compare to the other 6 days of the week? I'd guess it is about 75% the same, but it does differ in few ways.
The only time I really make something different for breakfast is for these posts; usually I stick to a bowl of muesli with chia seeds, weet-bix with banana and walnuts or the grated apple and oats jar I have posted here before.
Lunch and dinner basically look the same, but the amount of snacking is the big difference! I eat things I bake such as these cranberry and white chocolate biscuits and this vegan chocolate cake. I'm loving a hot cross bun at the moment and I always eat a lot of food when I go out e.g biscuits and cheese, wine and peanut M&Ms at our friends house for a BBQ on Sunday.
So by using WIAW I have a re-set, mini detox day to always help me get my eats back on track.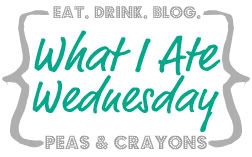 Breakfast: Quinoa flakes with almond milk and blueberries
I recently read Pete Evan's breakfast recipe using quinoa and coconut milk, but when I went to make it I saw I had almond milk and quinoa flakes I needed to use up so I came up with this instead.
How to make: Place 1/3 cup quinoa flakes, 1 tsp vanilla and 1 cup almond milk in a bowl, cover and microwave for 4 minutes. Add macadamia nuts, frozen blueberries, goji berries and cinnamon and extra milk to your taste. I don't normally need to add sweetener to breakfasts but I did need to add stevia to this one; so also add a little of your preferred sweetener (honey, maple sugar etc)
Lunch: Cauliflower and Chickpea curry
This is adapted from Scandi home's Cauliflower curry. Now unlike Maria's beautiful restrained Scandinavian approach, here I stick to my 'more is more' approach to food.
This recipe made four big serves which gave me a week's worth of lunches.
How to make: Using your stick blender or small food processor blend 2 tsp ground cumin, 2 tsp fresh ginger, 1 tsp ground turmeric, a pinch of cayenne pepper, 4 tbsp sesame seeds, 1/2 cup raw almonds, zest of one lemon, 400mL coconut cream or milk and 100mL of stock or water to blitz a mild curry sauce.
Chop and saute 1/8 butternut pumpkin, 1/2 head of cauliflower, 1/2 large zucchini and 4 spring onions. Cook for 5 mins then add sauce and simmer for a further 15 mins.
Stir through 400g tin rinsed chick peas and a handful of baby spinach leaves and season to taste.
Snack: Greek yoghurt, banana, strawberry and cacao peanut butter
I still cant get enough of this, this time with banana as well.
Dinner: Pita Pizza
This is a great healthy version of pizza. We use a variety of toppings to cater to our individual tastes, this is a Chicken antipasto version.
How to make: Dice chicken breast and saute in pan until golden. Roast 2cm diced pumpkin and/or sweet potato in the oven.
Spread passata over a pita bread. Top with chicken, pumpkin, bocconcini, sun-dried tomato and roasted peppers. Spray oven tray and base with oil to get a nice crisp base and bake in a very hot oven until golden and cheese is melted.
Tell me, how do you use WIAW?
Keep smiling
Dani xx