I think reducing the amount of sugar in our diet can only be a good thing. I also think it isn't that hard to be sugar free for the majority of your meals if you avoid processed foods. I think the thing that can make it seem really difficult and too hard to sustain is that the sugar-free pitch usually comes wrapped up in a whole lot of other dietary restrictions - 'sugar free and paleo', 'sugar-free and grain free', 'sugar/grain/dairy/vegan' etc. When you start layering other restrictions on top it does get tough and every recipe starts to look the same - vegetables, coconut, nuts, stevia and rice malt syrup!
Here is a day of my eats that I consider to be pretty good on the sugar front. There is some in the banana, and to a lesser extent the strawberries, in my breakfast; a little in the salmon dressing (less than 1.5 per 100g, you could easily make your own to be completely sugar free) and then some in the dark chocolate and grapes. Pretty acceptable to me as a 'sugar-free' day.
You'd never see my crispy chicken wraps as a suggested dinner on a sugar-free site and yet it is - unless your shun corn as well! I consider it healthy comfort food, and as long as you stop at 1-2 wraps, which is hard to do with this amazing chicken, it makes for a great family dinner.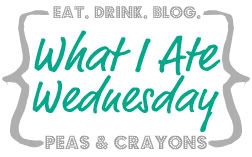 Breakfast:
Overnight oats with chia seeds.
1/2 cup oats, 1/2 cup almond milk, 1/2 tsp vanilla extract and 1 tbsp chia seeds mixed in a jar and left in the fridge overnight.
Layered in the morning with greek yoghurt, 1/2 banana, 5 strawberries and 4 walnuts.
Perfect before heading off to the gym, possible thanks to Mum offering to babysit.
(Apologies for the terrible photo, my DSLR batteries died and this was the best I could quickly manage with the old point and shoot - it was a good camera 8 years ago when we bough it with our wedding money!)
Lunch: Salmon and asparagus soba noodle salad
I bought some salmon marked down at Coles to make a quick and easy lunch salad.
No going to lie, this looks better than it tasted. I didn't make a dressing for the noodles as I thought the salmon glaze would give the dish enough flavour but unfortunately, it didn't.
I love soba noodles, it is one of the rare foods I agree with the serve size, so you fill up and they are gluten free, but they can be bland if you don't add enough flavour. I wish I had some edamame pesto to add but I didn't and I was too lazy to get up and make a dressing so it was a little underwhelming.
To make as a speedy lunch:
Boil water in the kettle and add to saucepan. Add 1 serve of soba noodles (you get three in a pack) and cook for 4 minutes. While they are cooking cook your salmon in a pan.
Rinse noodles in cold water and set aside. I'd suggest you add a dressing to the noodles at this stage - a lime juice, oil, rice wine vinegar kind of thing.
Set salmon aside when cooked.
Add another slosh of water to the the frying pan and add asparagus and snow peas. Bring to the boil and then simmer for 3 minutes keeping them crunchy and green
Add noodles and spinach to pan and toss through to combine.
Plate up and add avocado and salmon flaked on top and sprinkled with sesame seeds. Ready in under 15 minutes.
Dinner: Crispy chicken wraps
The crispy chicken is from a recipe I wrote down several years ago from a side column in a delicious magazine - it was a short recipe given from the chef they were interviewing (sorry I can't remember who) and it is one of our favourite family dinners. I highly recommend this dish. I serve it up when we have a group of friends over with lots of kids. Everyone can serve themselves and it is always a winner.
How to make crispy chicken:
Cut 2 chicken fillets into small chunks and place in bowl. Add 1/2 cup greek yoghurt or sour cream with 1 tsp each of garlic powder, celery salt and cayenne pepper. Set aside to marinate overnight or I usually only leave it for a couple of hours.
Mix 1 cup of polenta with 2/3 cup wholemeal flour in a seperate bowl and use this to coat chicken. At this stage you can either shallow fry in the frypan or bake in the oven - I use both.

Toppings: cheese, spinach leaves, tomato, avocado and aoli.
I also make a quick salad of corn and 5 mean mix and wella - ready to go!
Snacks: Dark chocolate and grapes
This is my favourite dark chocolate, not only because of it's smooth taste but because it comes in single serve sizes which makes me less likely to over indulge. It is 70% cocoa Moser Roth from Aldi.
Hope you had a happy Wednesday. What is your take on 'sugar-free'?
Keep smiling
Dan xx