School holidays have started so we have a full and busy household. Here's what I ate on a day that included swimming, cleaning and food shopping.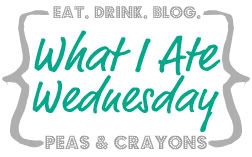 Breakfast: Banana, Blueberry and Walnut Breakfast Muffins with Yoghurt
I found this recipe on the Bodyrocker Facebook page - don't judge me, their workouts are really good! I just swapped the chocolate chips for frozen blueberries and walnuts and swapped sugar for natvia.
I had two muffins with greek yoghurt and a sprinkle of buckwheat grouts.
How to make:
In a bowl mix 3 cups of oats, 1 cup almond milk, 2 eggs, 1 tbs baking powder, 3 ripe mashed bananas, 1/2 cup frozen blueberries, 1/4 cup chopped walnuts, 2 tsp stevia (or equivalent) and 1 tsp vanilla. Cook in muffin tray at 180 degrees for 15-20 minutes. Makes 12.
Snacks: Apple and Muesli Bar
Breakfast tasted good but I got hungry earlier than usual and so snacked on fruit and these Food for life no fructose/no added sugar bars. The ingredient list is really good, as clean as
you can get without making them yourself.
Lunch: Pumpkin, beetroot, feta and chickpea salad
I'd roasted some pumpkin in the morning to make this salad, I love the combination of colours and I put it together based on what needed to be used from the veggie crisper. I also had 'In My Kitchen's' Beetroot, Pumpkin and Haloumi salad at the back of my mind and so used her simple yet tasty dressing.
How to make:
Cut up 1/4 butternut pumpkin (keep skin on) into 4cm cubes. Splash with olive oil and sprinkle with salt and roast in moderate oven. Chop 4 pre-cooked beetroots into wedges. Combine in a bowl with feta, a tin of rinsed chickpeas and spinach leaves. Dress with walnuts, sunflower seeds and dressing.
Dinner: Mushroom and Kale Quinoa-crusted tart
The inspiration for this dish comes from the Mushroom and Quinoa tart in the new Weigh It Up program. I have no affiliation with the program but i
f you are looking for a healthy and free complete meal plan (including meal plan, recipes and shopping list) the Weigh It Up programs are pretty good and they have a new 'Back on Track' plan up now. This one has a bit less cooking compared to previous programs, all of which are all still available for free on the website. While I love the idea of sticking with a meal plan I usually only end up using them as a starting place since I can never completely stick to one as there is always something different I want to cook or try or substitute. And don't even get me started on the size of serves...
How to make: adapted from Mushroom and Quinoa Tart
Base:
1 cup quinoa, rinsed
2 cups vegetable stock
2 eggs, beaten
50g parmesan
salt & pepper
Filling:
1 red onion, finely sliced
1 clove of garlic chopped
1 tsp dried thyme
150g mushrooms, sliced
2 cups kale, chopped
2 eggs
salt & pepper
2 tsp greek yoghurt
1/2 cup corn and four bean mix ( I had left over in the back of the fridge)
1/2 lemon zested
Preheat oven to 180°C. Grease a removable bottom fluted tart pan.
To make tart base, place quinoa and stock in a small saucepan and bring to a gentle boil. Cover and cook over a low heat for 10-15 minutes or until all liquid has been absorbed. Remove from heat, fluff with a fork and let cool for 10 minutes. Then mix with eggs, parmesan and season with salt and pepper.
Transfer mixture to prepared pie dish and gently press mixture evenly into the dish, including the sides. This is best done by covering with baking paper and using your hands, then use a small glass to roll and press the mixture evenly.
Bake tart crust for 15 minutes, or until just starting to brown. Remove from heat and set aside.
To make filling, heat a non-stick frypan over low-medium heat. Spray with oil, add onions and thyme and cook for 5 minutes, stirring regularly. Add mushrooms, kale, corn and four bean mix and garlic and cook for another 5 minutes.
In a separate bowl, blend eggs, yoghurt, lemon zest and salt and pepper.
Spread mixture over base of tart, top with mushroom mixture and bake for 20-30 minutes.
Snacks: Greek yoghurt bowl with strawberries and cacao peanut butter
Yep, a little heavy on the yoghurt today but I love the stuff.
Hope you had a great Wednesday.
Keep smiling
Dani xx