We had a great Easter break away camping with the family at Corowa which means I also enjoyed good food and wine. I made ANZAC biscuits, Oat and chocolate slice and Cherry Ripe Slice to take away and my Mum made chocolate dipped Florentines and I indulged in each and every one over the four days. Visits to the lovely wineries around Rutherglen meant that some good wine and cheese was also enjoyed.
Enjoying a wine with JJ at All Saints Winery
So this WIAW sees me trying to step away from the sugar and eat clean and sugar-free.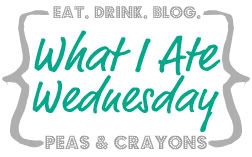 Breakfast: Oats topped with nuts and seeds
Keeping it simple here with oats, skim milk and a home- made mix of almonds, cashews, chia seeds, buckwheat, sunflower seeds and pumpkin seeds. The mix already had some prunes in it and I didn't bother to pick them out, so a little sugar was had!
Lunch: Beetroot, feta and lentil salad
It's getting close to soup weather here in Melbourne so I'm enjoying salads while the sun is still peeking through a little. This salad is made from tinned lentils,
pre
-cooked beetroot, zucchini, avocado, baby spinach leaves and feta. The dressing is a little oil from the feta. Ready in 5 minutes and tasty and filling.
Dinner: Salmon with Kitchen Sink Rice and Quinoa.
Salmon was on special so I snapped it up and made my version of fried rice. I used a rice and quinoa blend cooked in the rice cooker and then add any and all veggies from the crisper and season with some soy sauce - full recipe coming soon.
Snacks: Grapes, 1/2 MJ's wholemeal crumpet and a couple of cups of green tea in an effort to keep hydrated and keep hunger at bay.
How are you going with chocolate temptation??
Keep smiling
Dani xx