This is a recipe I have hand written in an old, well used folder so I am unsure of it's origins (if you know, let me know!) but it is an easy classic, ready in no time, looks good and most importantly is great to eat and share.
With Easter baking on the agenda and Anzac Day around the corner, these easy Cranberry and White Chocolate Anzac Biscuits tick a lot of boxes.
Why easy? Traditional Anzac Biscuits require some effort on the oven top to combine the bi-carb soda and golden syrup, whereas this version just requires some boiling water. They are also a little healthier than the traditional version yet you don't lose anything in taste or texture.
Easy Cranberry and White Chocolate Anzac Biscuits
1 cup wholemeal plain flour
½ cup rice bran oil (or macadamia or canola)
1/2 cup dried cranberries
1/2 cup white chocolate bits
Pre-heat over to 150 degrees. Mix oats, coconut and flour in a bowl. Dissolve bicarb with boiling water. Mix in oil and honey to water mixture until smooth. Add liquid to dry ingredients. Add in cranberries and white chocolate - you can increase or decrease the amounts to suit. Bake for 20 mins or until golden. They will harden upon cooling.
Dark choc chip and dried apricot, white choc and macadamia, sultanas or raisins.
I'll be sharing a plate of these while we camp over Easter at Corowa. Perfect with a cup of tea around the camp fire.
Tell me, what is on your Easter baking agenda?
Thanks to Alicia at
One Mother Hen
and Eva and the Multitaking Mummy for the link ups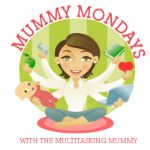 Happy Baking.
Keep smiling
Dani xx