What a lovely thing a link up is. My very new blog received some love from last week's post via Peas and Crayons, so thought I'd do it again. My eats are again from a Monday as the timing was good; I'd gone out for an early birthday lunch on Sunday and was getting a birthday dinner and dessert cooked by the hubby on Tuesday so this made me conscious of having a clean eating day on Monday. I wish I ate like this everyday, guess I'll just have to pretend I'm posting my eats on line every day! Now I just need to document the water I am drinking as this is a big fail at the moment.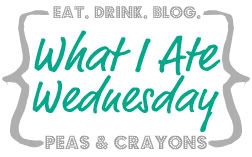 Breakfast:
Apple, greek yoghurt and oats in a jar
Grated apple, with a layer of rolled oats, greek yoghurt (2% Chobani) and sprinkled with walnuts, buckwheat grouts, chia seeds and cinnamon.
Lunch:
Freekah, pumpkin and goat's cheese earth bowl (and other good green stuff)
Freekah is the grain I've been playing around with a bit lately and for me when it comes to salads it definitely isn't a case of 'less is more'. This has zucchini, avocado, spinach, asparagus, mushroom, chickpeas, pumpkin and goat's cheese and was delicious. Hubby even stole some and he is not normally into these type of salads. Recipe here
Dinner:
Easy Paella
:
Hubby requested this and even though it made the day a little grain heavy, this is always a winner. I think 'taste sensation' was the compliment paid by my husband and MJ easily and quickly ate a whole bowl - always a great thing. This paella has chicken and marina mix with rice, some spices, passata, peas and capsicum - recipe here
Snacks: Healthy Bounty Bars (sugar-free) and strawberries and grapes (can't resist as I pass the fridge).
I made these from the
'I quit sugar'
website. I'm still on the fence about the amount of coconut oil used in many of their recipes, but these are a really tasty afternoon snack, and also perfect for after dinner for dessert, when the sugar urge hits. (I didn't have enough chocolate coating for step 5 below and they didn't set well enough for me to get nice bars as you can see above)
Ingredients:
1 cup coconut milk
4 tbsp rice malt syrup
3 tbsp coconut oil
2 cups desiccated coconut
pinch of sea salt
1 cup coconut oil
1/2 cup tbsp raw cacao

powder
2
tbsp rice malt syrup
pinch of sea salt
1. To make these delicious Healthy Bounty Bars, start with the coconut filling. Place the coconut milk, rice malt syrup and coconut oil in a medium sized saucepan. Over a low heat, stir the ingredients together until combined. Mix through desiccated coconut.
2. Line a slice tray or container with baking paper. Press the coconut mixture into the pan so that it is about 1.5cm thick. Refrigerate until coconut filling has set.
3. Once completely set, cut the coconut filling into bars. Cool in the freezer until very cold (this will make the chocolate coating step easier).
4. For the chocolate: place all ingredients in a double boiler, stirring until mooth/combined. Allow to cool slightly.
5. Coat the coconut bars with the first layer of chocolate. Place on a tray lined with baking paper and refrigerate until set. When completely set, coat the bars with a second layer of chocolate. Allow to cool in the fridge for 5-10 minutes before serving.
Keep smiling
Dani xx