When I first started reading healthy food blogs, looking at what other people ate was one way I started to expand my horizons and gather ideas. If you are familiar with food blogs you will probably have seen Jenna's from Peas and Crayons 'What I Eat Wednesday' - check our the link below if you haven't - and so now that I finally have a blog I wanted to join in on the fun and also use it as a way to help to keep my eats on track.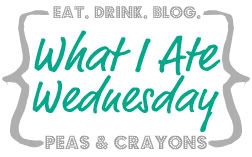 So here is my first 'What I ate Wednesday.
This was food from a Monday, which is the day I find myself most likely to eat well. I'd also completed a bit of food prep in the days before so had some good healthy options. I have to be more consistent with that, it makes eating well so much easier!
Sugar free coco-nutty granola with blueberries.
The coco-nutty granola is from Sarah Wilson's 'I quit sugar' and I had made up a batch last week. I'm not sugar free but I do try to limit my sugar intake throughout the day and save it for special occasions or dessert. I alternate between full fat and skim milk - I like the arguments for both so hedge my bets!
Makes 5 cups
4-5 tablespoons coconut oil (or butter), melted

3 cups coconut flakes

2 tablespoons chia seeds

1 teaspoon cinnamon (optional)

2 cups almonds, cashews, pecans, walnuts, pepitas , chopped roughly
Preheat oven to 120 C. Mix all ingredients in a bowl, spread evenly on baking paper on a tray and bake for about 15-20 minutes, until golden, turning halfway.
When golden (the darker it is, the crunchier it is), remove and cool immediately to get it crispy.
'Whatever I have in the fridge' salad
Today was a base of spinach leaves, then avocado, tomato, celery, radish and mushroom topped with shredded chicken and dressing. I don't like to buy a lot of dressings, it's cheaper and healthier to make my own, but I am loving this 'blessed & lucky' dressing at the moment. It adds a beautiful tang to any salad and makes me eat a lot more greens.


Snack:
Greek yoghurt with sugar free strawberry and vanilla jam.
Chobani Greek Yoghurt (plain 2%) with Strawberry Jam. When I started reading American blogs they were always talking about Chobani yoghurt and so when it arrived in Australia I was excited to try it and I've been a convert ever since. Creamy and delicious with a protein count not evenly closely matched by any other brand. I made a batch of the the Teresa Cutter's The Healthy Chef
'Sugar-free smashed berry and vanilla jam'
and swirl it through - delicious! I also ate strawberries and grapes throughout the day.
500 g (17 1/2 oz) strawberries, washed with stalks removed
300 g (10 1/2 oz) raspberries (I used frozen that I defrosted)
1 teaspoon vanilla bean paste (I used vanilla extract)
3 drops of stevia
2 tablespoons chia seeds
Combine 250 g (8 1/2 oz) strawberries, vanilla and dates into a high performance blender like a Vitamix. ( I just used my stick blender)
Blend until smooth. Taste and adjust sweetness if necessary. I love it a little tart and less sweet.
Spoon the strawberry puree into a bowl.
Add the chia seed and mix through.
Smash the raspberries and add to the strawberry puree.
Dice the other 250 g (8 1/2 oz) of strawberries then add to the strawberry puree.
Allow the berry jam to settle and develop for 30 minutes in your refrigerator.
Serve anyway you love – it's Purely Delicious !
Dinner:
Inspiration came again from taste.com.au magazine
Prawn and Soba noodle salad with edamame pesto
A terrible picture but an absolutely delicious meal. The edamame pesto was incredible - it added an amazing flavour and was paired with soba noodles, Lebanese cucumber, radishes, more edamame beans, spring onion and prawns. So good I made it again when we had friends over last night.
To be completely sugar free - replace the dressing with an olive oil/lemon juice dressing, replace grapes for nuts as a snack and omit the 1 teaspoon of sugar in the edamame pesto.
So there is my first What I Ate Wednesday! Definitely a good day on the healthy eats scale, but I'm not going to post my worst day first up am I!!!